---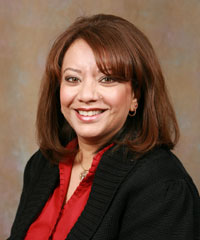 Professor
Graduate Program Director
---
Department
Role: Faculty
Campus: Springfield
---
Postal mail
Missouri State University
Criminology
901 S. National Ave.
---
Details
Education
PhD, 1995, George Washington University
MPhil, 1994, George Washington University
BA, 1991, George Washington University
Teaching
CRM 270 – Institutional and Community-Based Corrections
CRM 320 – Criminological Theory
CRM 335 – Criminal Typologies
CRM 770 – Correctional Theory and Practice
Research and professional interests
Dr. Aida Hass' research interests include an examination of the social organization of the modern penal institution, with a focus on the impact of the changing dynamics of sentencing and corrections on the structural operation and interaction between inmates, correctional officers and prison functions. She is also interested in studying the effect of prisoner reentry programs on successful integration of offenders into the community after a period of extended incarceration, with a specific focus on faith based initiatives which center on collaborative efforts at bridging the gap in community resources available to offenders.
Awards and honors
Certified Master Advisor, Missouri State University. (2007).
Graduate Faculty Appointment, Missouri State University. (2007).
Outstanding Team Award, CSOSA. (October 2003).
Performance Achievement Award, CSOSA. (November 2002).
Performance Achievement Award, CSOSA. (November 2001).
First Place Award on the Juvenile Justice written examination, National Criminal Justice Association Regional Conference. (October 2000).
National Recognition Award, National Criminal Justice Assoc. (March 2000).